3D Stereo Video Borescope with 3D Modeling
iX3D

3D Stereo Measurement Videscope
Flexibel Scope 3D Stereo Measurement System
Probe Diameter: 6mm, Length: 1.5m - 7.5m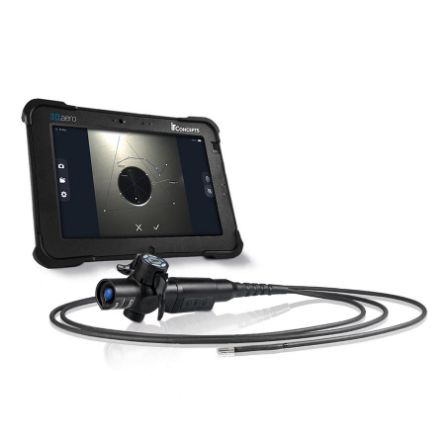 3D Stereo Measurement Video Borescope with 3D Modeling
iX3D 

Enhanced Borescopy with Stereo Vision Technology
iX3D is an advanced videoscope system designed for accurate and efficient point-to-point and three-dimensional surface inspections in hard-to-reach areas. This system offers various probes, each equipped with a stereo vision camera that generates 3D data for detailed inspection. The user-friendly interface is intuitive and straightforward measurement process is meticulously designed providing comprehensive control for the operator. The monitor unit can be positioned independently from the probe, allowing for easy data reading in diverse environments.

Despite its advanced technology and the complexity of inspections, the system has an almost zero learning curve for operators.

Customization options, including specific designs, additional functionalities, or integration into a desired system, can be implemented to meet customer requirements. 

Advanced 3D Stereo Measurement Video Borescopes
for Remote Visual Inspection
3D stereo measurement video borescopes represent a sophisticated advancement in remote visual inspection (RVI) technology, enabling precise three-dimensional assessment of intricate and inaccessible areas. By utilizing stereo vision techniques and a diverse array of RVI methodologies, these advanced instruments facilitate accurate measurements for comprehensive evaluation of internal components and surfaces. This detailed inspection capability also aids in more reliable detection of damages and defects, further enhancing the effectiveness of RVI applications in various industries.

Stereoscopic imaging, a prevalent 3D stereo measurement technique in advanced video borescopes for remote visual inspections (RVI), is grounded in the principle of parallax. Utilizing a dual-camera (image sensor) system with fixed separation distance, the technique captures distinct perspective images of the inspection area. By assessing the disparities between these images, the system calculates depth information, thereby generating a 3D representation of the inspected object's surface. In order to optimize the depth estimation process, sophisticated algorithms, such as global and local stereo matching techniques, are implemented. Moreover, contemporary systems might incorporate artificial intellect (AI), machine learning (ML) and computer vision (CV) technologies to bolster the accuracy of the stereo correspondence process.

Other 3D stereo measurement methods employed in RVI and specifically video borescopes include photogrammetry, structured light techniques, also known as phase-shift profilometry, and laser-assisted measurement (or laser line triangulation) with additional laser accessories. Photogrammetry involves capturing multiple images from different angles and using software algorithms to reconstruct a 3D model of the inspection area. Phase-shift profilometry projects a specific light pattern onto the surface under inspection, which is then captured by the borescope's camera. The distortion of the light pattern reveals information about the surface geometry, allowing the creation of a 3D model.

Laser-assisted measurement with optional laser accessories employs a laser line projected onto the inspection area, and the camera captures the reflected laser line to calculate the surface profile. Laser-assisted measurement does not offer 3D stereo measurement in the same way as true 3D stereo measurement techniques; however, it presents a straightforward and effective method for acquiring measurement data during RVI.

Compared to other stereo measurement techniques, stereoscopic imaging offers several advantages in the RVI domain:

Precision: Stereoscopic imaging yields highly accurate measurements of distances, angles, and complex geometries in hard-to-reach areas, making it a valuable tool for various industries, including aerospace, automotive, oil and gas, and manufacturing.
Robustness: Stereoscopic imaging is less susceptible to variations in lighting conditions, surface textures, and object reflectivity than some other methods, such as structured light techniques or laser-assisted measurements.
Real-Time Processing: Stereoscopic imaging allows for real-time processing of 3D data, enabling operators to make informed decisions and take appropriate action during the inspection process. 
Key Features of 3D Stereo Measurement Video Borescopes
Stereo Vision Technology: The integration of stereo vision cameras enables the generation of accurate 3D data by capturing two slightly different images of the inspection area. The system processes these images to create a depth map, providing a detailed three-dimensional representation of the inspected surface.
High-Resolution Imaging: Advanced 3D stereo measurement video borescopes offer high-resolution imaging capabilities for enhanced detail and image quality. This feature is essential for accurate defect detection and reliable measurement results.
Articulation Control: Precise articulation control enables the operator to navigate and position the probe tip accurately within complex and curved pathways, ensuring optimal inspection coverage.
User-friendly Interface: Intuitive user interfaces and software applications facilitate easy operation, data analysis, and reporting.
Customization Options: Customized solutions, including specific designs, additional functionalities, or integration into existing systems, can be implemented to meet customer requirements.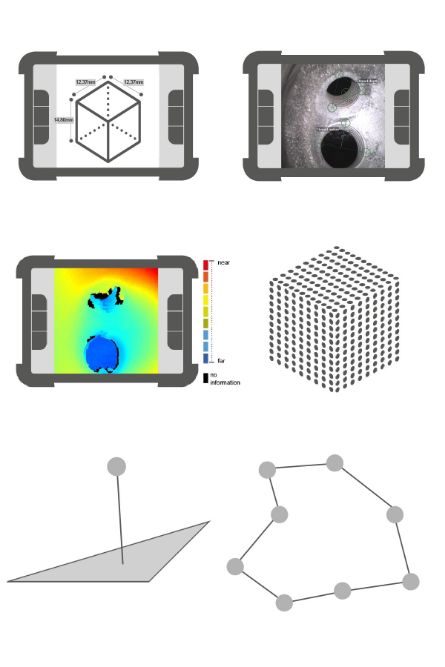 RVI Methods in 3D Stereo Measurement Video Borescopes
Point-to-Point Measurement: This method measures the distance between two points on the inspected surface, providing accurate linear measurements for the evaluation of defects, wear, and other surface irregularities.
Point-to-Line Measurement: By measuring the distance between a point and a reference line, this technique allows for the assessment of deviations from an expected linear path or the detection of surface undulations.
Point-to-Plane Measurement: This method calculates the distance between a point and a reference plane, enabling the evaluation of surface flatness or concavity.
Multi-point Line Measurement: By measuring multiple points along a line, this technique provides a comprehensive profile of the inspected surface, enabling the detection of trends or patterns in surface irregularities.
3D Point Cloud Generation: The 3D point cloud is a collection of data points representing the inspected surface's three-dimensional geometry. This method allows for a comprehensive analysis of the surface, including volume calculations, surface reconstruction, and feature extraction.
Colored Depth Map: The colored depth map visually represents the 3D data captured during the inspection, with different colors indicating variations in depth or height. This representation aids in the quick identification of surface irregularities and defects.
360° 3D View of Model in Image: This advanced method provides a complete 360° view of the 3D model, enabling operators to examine the inspected surface from multiple angles and identify defects or irregularities that may not be visible from a single viewpoint.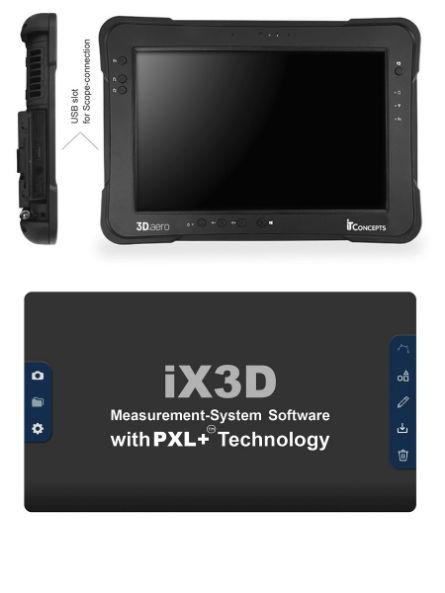 iX3D Stereo Videoscope Characteristics
Shock proofed rugged industry type Tablet PC, IP65 protection class unit, MIL-STD 461G, MIL-STD 810G military standard, Corning® Gorilla® Glass screen protector, Sunlight Readable Outdoor display with digitizer support, up to 11 hours battery life

3D stereo measurement and 3D modeling proprietary PXL+ software technology TM exclusively licensed by 3D.aero GmbH

2D/3D measurement methods supported: point-to-point, point-to-line, point-to-plane, multipoint line, 3D point cloud, colored depth map, and 360° 3D view with distinct colors for each layer

2 AIT Advanced Image Sensor chips per distal end

High-power LED Illumination on the tip (6mm X PRO) with 3 steps control

6mm пrob diameter (outer diameter)

1.5m - 7.5m working lengths

0° or 90° Direction of View (DOV) stereo camera

4-way articulation

± 90° rotatable display with ±90° rotatable handle

Waterproof, oils and saline resistant probe and distal end

-25°C to +46°C system operating temperature

-25°C to +80°C tip operating temperature (can withstand up to 140°C for less than 5 minutes)

Handle material: PA1102, excellent resistance to chemicals, especially hydrocarbons,

aldehydes, ketones, mineral bases and salts, alcohols, fuels, detergents and oils/greases

PA1102 is made from renewable raw materials

Video interface: 8 PIN (for iCapture PRO), HDMI PRO with monitor/touch display, HDMI ZOOM with monitor/touch display

Wi-Fi remote access

Industrial grade storage and transportation case 
iX3D Stereo Videoscope

Unique Capabilities
Professional high precision 2D and 3D stereo measurement
360° 3D view along with colored depth map
Precise management of measurement points set
User-friendly software and straightforward measurement process without requiring complex pre-training
High measurement accuracy
Flexible use due to low weight of scopes and separate powerful display unit
Images and videos can be stored directly in company network storage systems
Online remote access to inspection and measurement data (remote software not included)
Measurement results are usually ready in less than 1 minute
Durable design, easy handling, high image quality and a very attractive price point for this type of complex equipment
Unique design with high resolution camera provides clear, bright, high resolution images even in ambient lighting conditions
High precision welded tip (distal end) drastically reduces the probability of tube tip separation, and provide trouble free, safe inspections
Convenient and ergonomic design and lightweight construction industrial endoscope enable truly single-handed controls operations
Effortlessly swap industrial endoscope assemblies with a single control unit
Enclosed high-grade tungsten braided sheath insertion tube design provides a durable, fluid resistant, corrosion free rigid borescope with reliable outer protection
The iX3D stereo measurement videoscope universally adapts to almost any video system for recording video or digital still images to store inspection results and import the images to your system
Customized 3D stereo management and inspection solutions are available, including tailored designs, additional features, and integration into the desired systems as required
ADVANCED IMAGING TECHNOLOGY 
4-Way Articulating 3D Stereo Measurement Borescope Camera
4-way articulating video borescope for complete 360-degree field coverage in all of your borescope and videoscope applications
Articulation mechanism with true Tactile Feel

Chip in the Tip Advanced Optics & Imaging Technology

Cold and brilliant fiberoptic or LED in the tip support IT Concepts new and innovative FOLED illumination technology

Visual Inspection 3D Stereo Measurement Solutions in Practice
3D Stereo Measurement iX3D Video Borescope Images
Authentic, Real-Time Images from 3D Measurement Videoscope Applications in Various Industries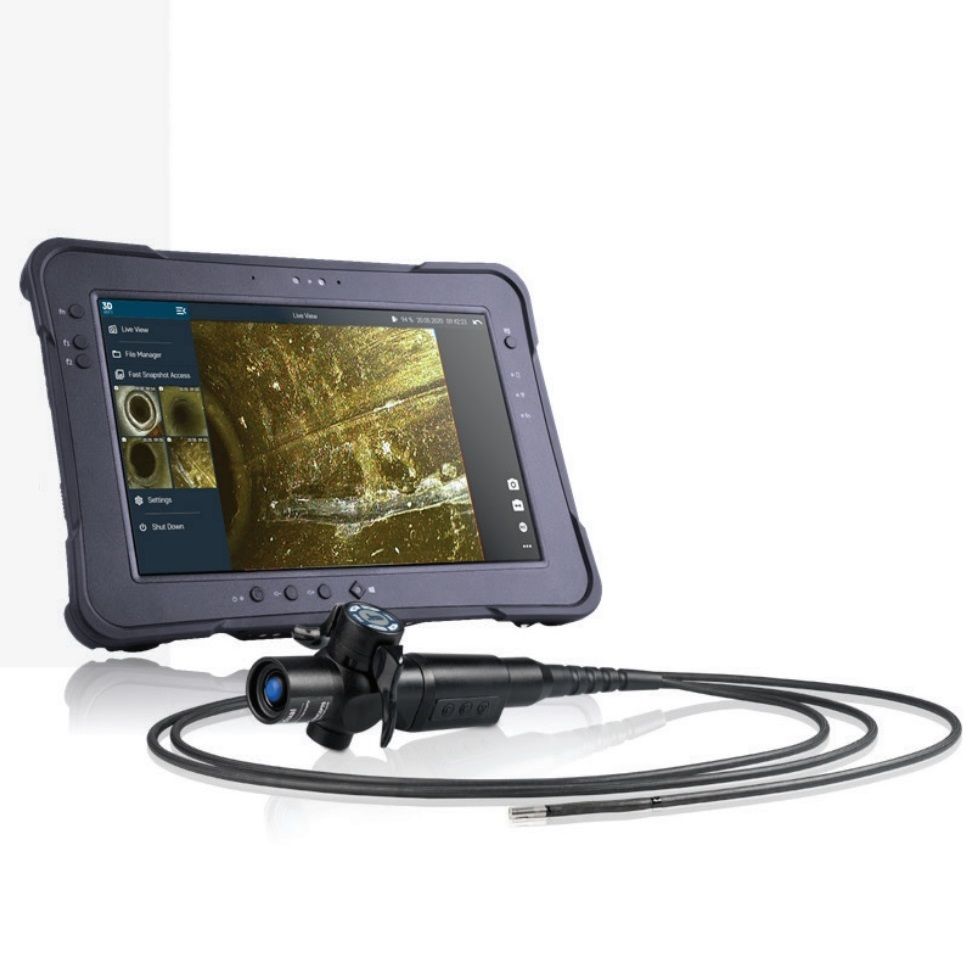 Mobile 3D Stereo Inspection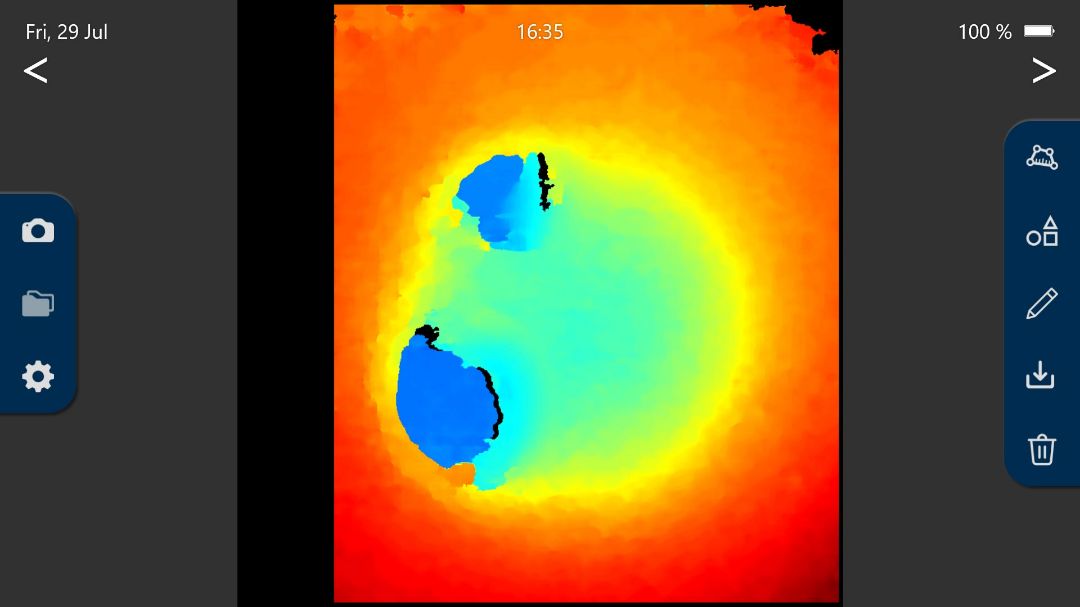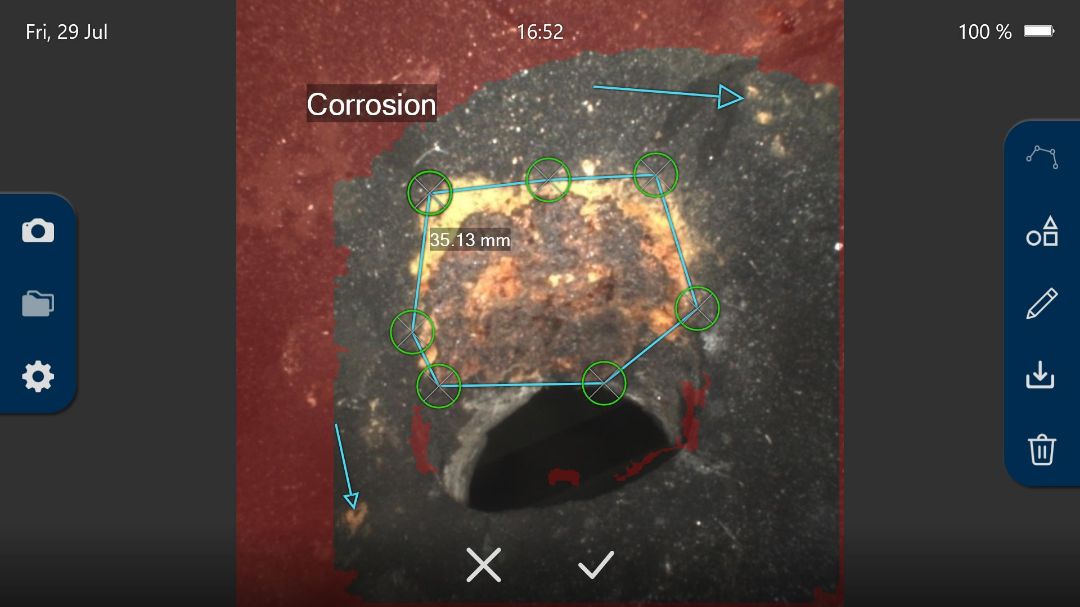 Multipoint Line Measurement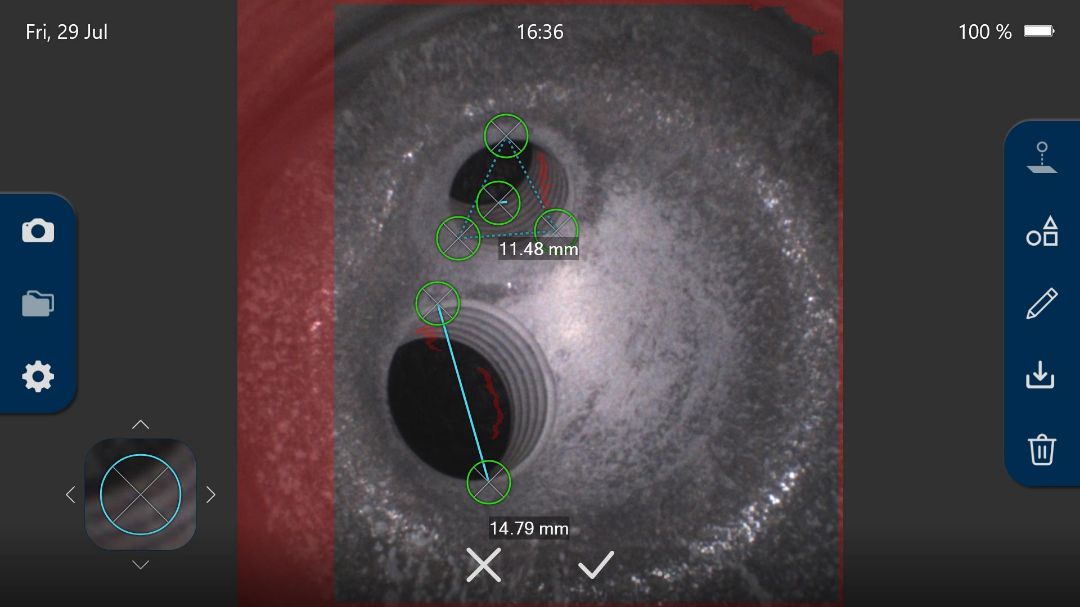 Point-to-Point, Point-to-Plane Measurement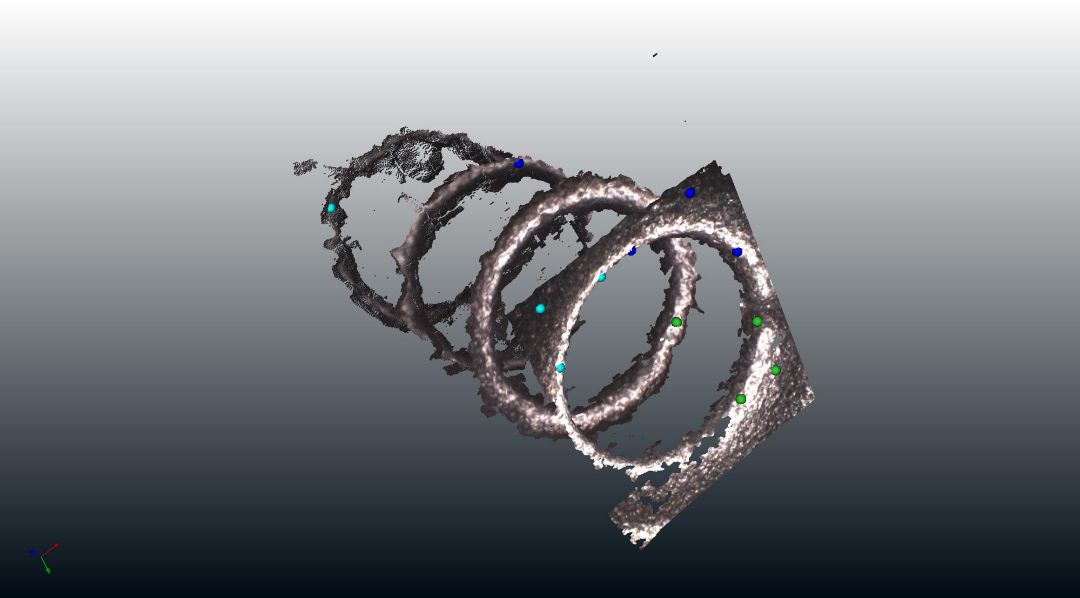 Videoscopes, Borescopes, Flexible Fiberscopes, Rigid Borescopes, Borescope Accessories, and Fiber Image Bundles
Explosion Proof

Borescopes

Small (2mm) Diameter

Borescopes

Working Channel (WC)

Borescopes with Tools

Ultraviolet (UV)

Illumination Borescopes

Infrared (IR)

Illumination Borescopes

Blue Light

Borescopes

Wireless/Wi-Fi

Borescopes

Red Line

Borescopes

Interchangeable Probes

Borescopes

Interchangeable Scopes

Borescopes

Interchangeable Lens

Borescopes

Dual View

Borescopes

Smart Focus

Borescopes

Dual Focus

(Near to Infinity) Borescopes

Regular

and

Stereo/3D 

Probe

Measurement

Borescopes

Fiber Optic Image Bundles




Mobile

,

Portable

,

Stationary

,

Combinable

&

Expandable

,

Compact

&

Modular

Borescopes, Videoscopes & Fiberscopes