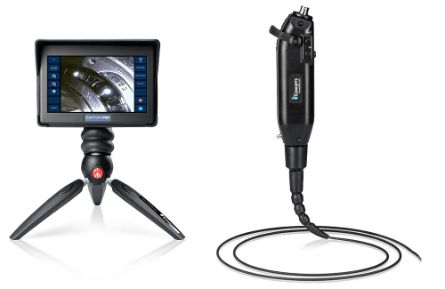 XLED 3
Flexible videoscope system
Flexible videoscope system for industrial use. 3 and 4 mm probe diameter, 1 - 3 m working length. CMOS sensor and strong LED.

XLED 3 - Flexible videoscope system
Extrem kleine Sondendurchmesser (ab 3,0mm). Inspektionen in abgelegenen oder unzugänglichen Bereichen der rauen Industrie-Umgebungen sind jetzt in kürzester Zeit und mit einer ungeahnten Leichtigkeit realisierbar. Das System ist innerhalb von Sekunden einsatzbereit. Sie können das distale Ende schnell, einfach und präzise in jede gewünschte Position bringen. Mit Hilfe der bewährten taktilen Steuereinheit kann die Sondenspitze bis zu 180° abgewinkelt werden. Die starke LED-Lichtquelle stellt sicher, dass Sie keine Details auf dem 7" Touch Display mit hoher Auflösung verpassen. Die integrierte, austauschbare und wiederaufladbare Hochleistungsbatterien gewährleisten eine Betriebsdauer von mehr als 2 Stunden.

Wahlweise kann das System auf mit Netzteil betrieben werden. Durch die Modularität des Systems lassen sich mit den Wechselsonden (in unterschiedlichen Durchmessern und Arbeitslängen) eine Vielzahl an System-Varianten generieren. So haben Sie immer das passende System für die Anforderungen im Einsatzbereich. Das System wird in einem extrem stabilen und mobilen Koffer ausgeliefert. Verschiedenes Zubehör, wie Halsgurt, Ladenstation, Batteriegurt, Austausch-Akku, Magic-Arm, etc. sind je nach Model im Lieferumfang enthalten oder zusätzlich erhältlich.