2mm FLEXIBLE ARTICULATING FIBERSCOPE
iFlex
2mm Fiberscope
(2.4mm Probe Diameter)
Articulating Fiberscope

2-way or 4-way Articulating Flexible 2mm Industrial Endoscope
More Prob Diameters: 2.4mm, 3.5mm, 4mm, 6mm, and 8mm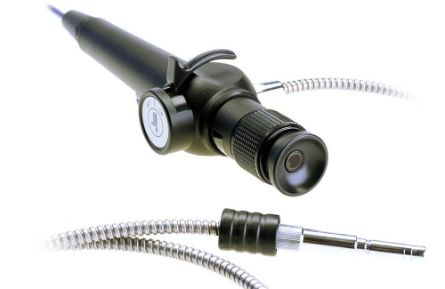 Small Diameter Articulating Flexible Fiberscope (Fiber Optic Scope)


iFlex

The iFlex is a small-diameter, articulating flexible fiberscope (also known as a fiber optic scope) featuring a durable tungsten braided sheath. It is available in diameters starting from 2.4mm and lengths up to 2.7 meters. This fiberscope is designed to be compatible with existing light sources or video systems, enabling video recording capabilities for inspections. Suitable for various industrial and security-related applications, the iFlex offers versatility and adaptability in a compact, high-performance design.





Price: Starting at $4,370.00
iFlex - IT Concepts 2mm Flexible Articulating Fiberscope
2mm Articulating Fiberscope
Small-diameter articulating fiber optic scopes, with a 2.4mm probe diameter, are essential for remote visual inspection (RVI) of intricate and confined spaces. Articulating fiberscopes are ideal for examining tubing, castings, medical equipment, and precision-manufactured components.

An articulating borescope, or fiberscope, is a flexible visual inspection device specifically designed for inspecting curved, tight, narrow passages, spaces, pipes, or channels.

IT Concepts offers articulating fiberscopes with probe diameters ranging from 2.4mm to 8mm and lengths between 0.4m and 2.7m. A variety of articulated borescopes are available, differing in diameter, length, tip angulation, resolution, and price range. The 2-way and 4-way articulation of the probe tip ensures a smoother insertion process and provides enhanced maneuverability around narrow bends and small-radius corners.

IT Concepts articulating fiberscopes feature durable tungsten braided sheath probes that offer significantly higher wear resistance than stainless steel. The insertion tube, featuring a sealed design, is suitable for operations with various fluids, including water, hydraulic fluids, mineral and synthetic oils, aviation fuel, kerosene, gasoline, and diesel fuel. These rugged, tough, and flexible fiberscopes are designed for convenience and ergonomics, ensuring long-lasting performance in harsh industrial environments.

iFlex Flexible 2mm Articulating Fiberscope
The iFlex flexible 2mm articulating fiberscopes, featuring an optional light source, are designed for the examination of internal cavities and hard-to-reach or challenging areas in industrial or technical devices and objects such as frames, mechanisms, engines, and pipelines. These areas are typically inaccessible for direct line-of-sight observation or external examination.


The IT Concepts iFlex articulating fiberscope is equipped with the following components:

Glass fiber illumination: This feature ensures optimal lighting conditions for clear and detailed visual inspection.
Glass fiber image guide: This component transmits the image captured by the fiberscope to the viewer, enabling high-quality visualization.
Standard light guide adapter plug: Available in various types, these plugs are compatible with most common light sources, ensuring seamless integration with existing equipment.
Tungsten braid insertion tube sheathing: This durable sheathing material provides enhanced protection and wear resistance for the fiberscope's insertion tube, ensuring longevity and reliability.
Rubber eyecup: Designed for user comfort and improved viewing experience, the rubber eyecup helps maintain focus during inspections.
IT Concepts XLED PRO Case: This protective case is specifically designed for storing and transporting the iFlex fiberscope, ensuring safekeeping and convenient handling.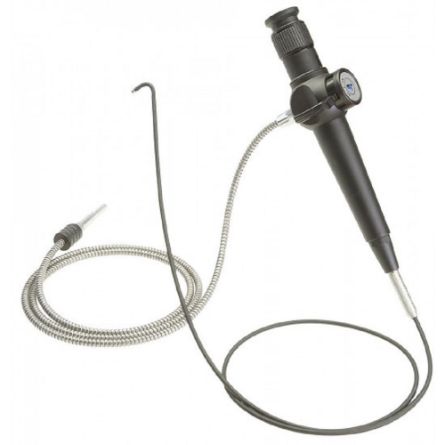 iFlex Articulating Fiber Scope Features
Probe Diameters: Available in 2.4mm, 3.5mm, 4mm, 6mm, and 8mm sizes, catering to various inspection requirements.

Working Lengths: Ranging from 0.4m to 2.7m, accommodating diverse inspection depths and distances.

Direction of View (DOV): Offering 0/90° forward/orthogonal viewing options for versatile inspection angles.

Field of View (FOV): Providing a 45 - 60° viewing range, enabling comprehensive visualization of the inspection area.

Pixel Count: Delivering 6,000 – 16,000 pixels for high-resolution image quality.

Articulation Options: Available in 2-way or 4-way articulation for enhanced maneuverability and flexibility during inspections.

High-Resolution Leached Fiber Optic Scope: Ensuring clear and detailed imaging for precise inspection results.

Waterproof Construction: Designed to withstand exposure to water, allowing for use in various environments.

Tungsten Braided Sheath: Offering a robust and durable fiberscope construction to ensure longevity and wear resistance.

Rugged Aluminum Handpiece: Featuring a matte powder finish for a secure grip and enhanced durability.

ACMI Light Guide Post: Ensuring compatibility with industry-standard light sources for seamless integration.

Industrial Grade Storage and Transportation Case: Providing a robust and secure storage solution for the fiberscope, ensuring protection during transportation and storage.
iFlex Articulating Fiberscope Distinctive Capabilities
Universal Adaptability: The iFlex small diameter fiberscope can be easily connected to a wide range of video systems, enabling video recording or digital still image capture for storing inspection results and transferring them to a computer.
Enhanced Maneuverability: With 2-way and 4-way articulation options, the fiberscope can effortlessly navigate confined inspection spaces.
Superior Wear Resistance: The tungsten outer braid offers significantly greater durability compared to stainless steel, ensuring the fiber optic scope can withstand the demands of industrial applications.
Watertight Insertion Tube: Designed to securely operate in various fluids, including synthetic and mineral oils, hydraulic fluids, gasoline, diesel fuel, kerosene, aviation fuel, and water.
Interchangeable Light Guidepost Adapters: Compatible with nearly any existing light source, these adapters allow seamless integration with current equipment.
Rugged Handpiece Construction: The fiberscope features a durable aluminum handpiece with a matte powder finish, enabling it to endure harsh industrial environments for prolonged periods of use.
ADVANCED IMAGING TECHNOLOGY 
2-WAY or 4-Way Articulating Fiberscope
2-way or 4-way articulating fiber optic scope for complete 360-degree field coverage in all of your RVI (Remote Video Inspection) applications
Articulation mechanism with true Tactile Feel
Universal interchangeable light guidepost adapter to allow compatibility with existing light source equipment

Fiberscopes vs Video Borescopes (Videoscopes)
Advanced Small Diameter Fiberscopes: Features, Advantages, and Applications
Advanced Features and Capabilities of Modern Small Diameter Fiberscopes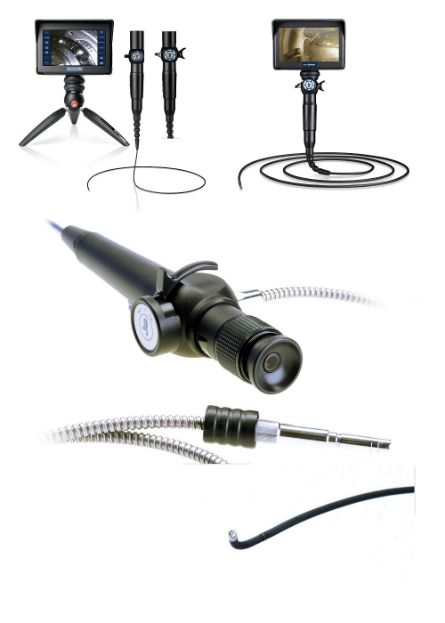 Small Diameter Fiberscopes vs Video Borescopes (Videoscopes)
Advanced Small Diameter Fiberscopes: Features, Advantages, and Applications
Fiberscopes and video borescopes are both critical remote visual inspection (RVI) tools in non-destructive testing (NDT). While video borescopes typically deliver superior image quality, modern fiberscopes possess advanced features and capabilities that afford distinct advantages in particular inspection scenarios. This article discusses the key features of modern small diameter fiberscopes, their benefits over video borescopes, and their integration with video recording and processing systems.

Advantages of Small Diameter Fiberscopes Over Video Borescopes
Despite video borescopes offering exceptional image quality and advanced features, fiberscopes present a set of unique advantages that render them the preferred choice in specific inspection scenarios.

Smaller Diameter Probes
Fiberscopes employ fiber optic bundles for image transmission, enabling significantly smaller probe diameters compared to video borescopes. These smaller diameters facilitate fiberscope access to extremely narrow or confined spaces, providing a distinct advantage in applications with limited access. Notably, IT Concepts specializes in designing and manufacturing unique small diameter (2.4mm probe) XLED PRO videoscopes tailored to specific requirements.

Enhanced Flexibility
The fiber optic bundles in fiberscopes offer greater flexibility than electronic components in video borescopes. This added flexibility allows fiberscopes to more easily navigate complex and curved pathways, delivering superior inspection capabilities in environments with multiple bends or angles.

Durability and Resistance
Fiberscopes are generally more durable and resistant to environmental factors compared to video borescopes. The lack of delicate electronic components within the insertion tube renders fiberscopes less prone to damage from moisture, temperature fluctuations, and vibrations. This durability ensures reliable performance in harsh environments and minimizes the risk of equipment failure.

Lower Cost
Fiberscopes usually have a lower price point than video borescopes due to the reduced complexity of their internal components and no need for an external control unit with a display to operate. This cost advantage renders fiberscopes a more accessible option for businesses and industries requiring RVI capabilities while adhering to budget constraints.

Easier Maintenance and Repair
The simpler design and fewer electronic components make fiberscopes easier to maintain and repair than video borescopes. In case of damage, a fiberscope's fiber optic bundle can often be replaced more easily and at a lower cost compared to repairing or replacing complex camera and electronic systems in a video borescope.

Explosion Proof and Intrinsically Safe Nature
Fiberscopes can be more easily designed as explosion proof and intrinsically safe devices, ensuring safe usage in hazardous environments where there is a risk of explosion or fire. This feature is especially important in industries such as oil and gas, chemical processing, and aerospace, where inspections frequently occur in potentially explosive atmospheres.

Modern Small Diameter Fiberscopes Features
Contemporary small diameter fiberscopes have undergone significant advancements, presenting a range of sophisticated features and capabilities that render them comparable to video borescopes in certain aspects:

High-Resolution Fiber Optic Bundles: Improved fiber optics provide better image quality and detail.
Enhanced Illumination: Powerful LED light sources ensure bright and uniform illumination.
Articulation Control: Precise articulation control enables accurate navigation and positioning.
Ergonomic Design: Modern fiberscopes prioritize user comfort and ease of use.
Integration with Video Recording and Processing Systems
Contemporary very small diameter fiberscopes can be seamlessly integrated with video recording and processing systems using specialized fiberscope cameras and C-mount adapters. This integration enables operators to:

Archive inspection footage for subsequent reference and analysis.

Acquire still images of inspection sites for in-depth scrutiny.

Disseminate real-time inspection visuals with remote teams, fostering improved collaboration.

Employ digital image processing software to augment defect detection capabilities.
Modern very small diameter fiberscopes provide an array of advanced features and capabilities that augment their advantages over video borescopes. Enhanced image quality, adaptability, durability, and intrinsically safe design render fiberscopes the optimal choice for particular inspection scenarios. By comprehending these features and capabilities, industry professionals can select the most suitable RVI instrument for their inspection needs, thereby ensuring exceptional performance and outcomes.

Individually configured for your needs
MORE FLEXIBLE ARTICULATING FIBERSCOPES, RIGID BORESCOPES, AND FIBERSCOPE ACCESSORIES
Mobile, stationary, combinable & expandable, compact & modular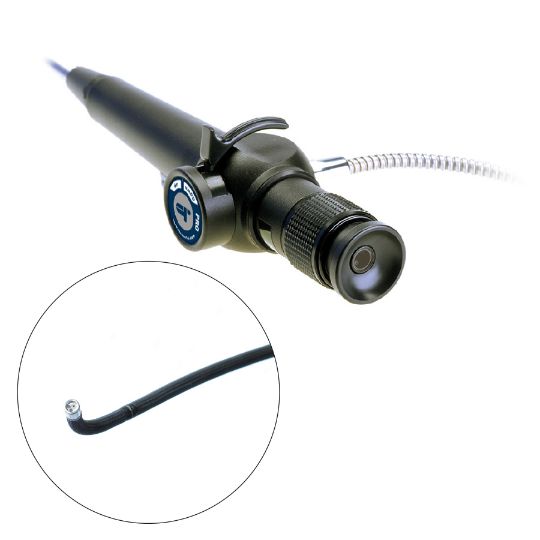 Flexible Articulating Fiberscope
Probe Diameter: 2.4 - 8mm
Length: 0.4 - 2.7m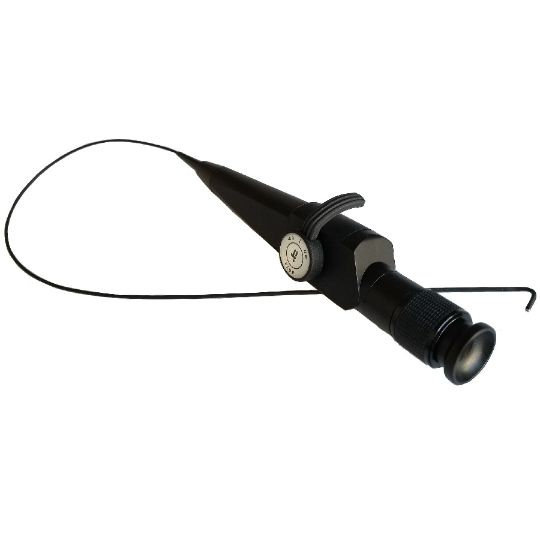 Cost-effective Articulating Fiberscope
Probe Diameter: 2.4 - 6mm
Length: 0.7 - 1.3m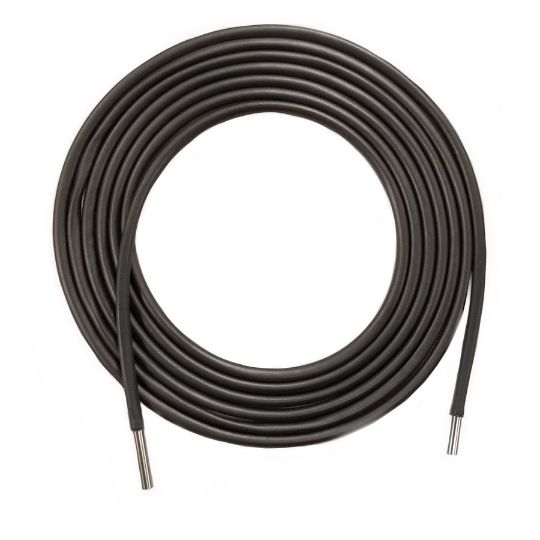 Leached Glass Fiber Image Bundle/Guide
Bundle Diameter
:
0.38 - 1.4mm
Length: 0.54 - 3m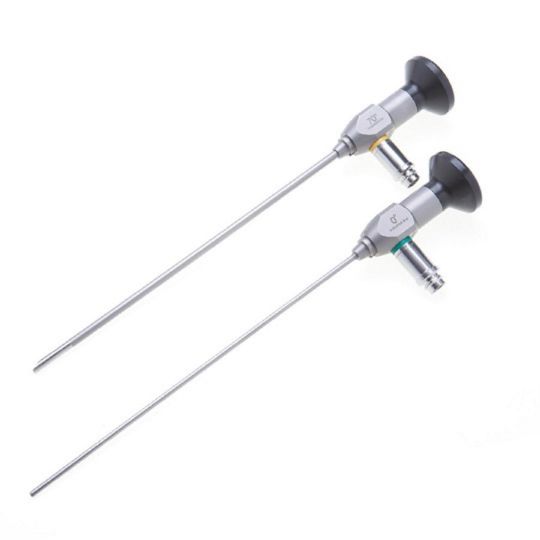 Rigid, Semi-rigid (S
emi-flexible)
Probe
Diameter
: 1.9 - 9mm
Length: 0.175 - 0.945m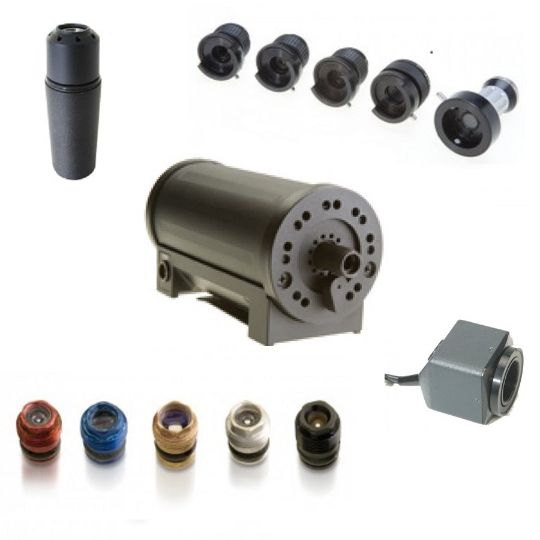 For Flexible Fiberscopes, Rigid Borescopes, and Videoscopes
Light Sources, Borescope & Fiberscope Cameras, Side View Tips, Tip Adapters, Imaging Hubs, Storage and Transportation Cases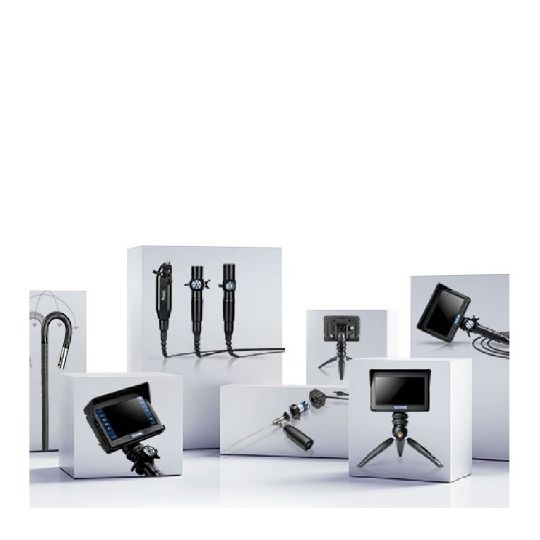 Videoscopes, Flexible Fiberscopes,
Rigid Borescopes
Probe Diameter: 1.9 -
9mm
Probe Length: 1.5 - 7.5m,
up to 10 - 20m (custom configurations)

Videoscopes and Borescope Cameras, Flexible Fiberscopes, Rigid Borescopes
Videoscopes and Borescope Cameras. Probe Diameters: 2mm (2.4mm) Videoscope, 3mm Videoscope, 4mm Videoscope, 6mm Videoscope, 8mm Videoscope. Working Lengths: 1.5m - 7.5m, up to 10m – 15m (custom configurations). Flexible Fiberscopes. Probe Diameters: 2.4mm Fiberscope, 3.5mm Fiberscope, 4mm Fiberscope, 6mm Fiberscope, 8mm Fiberscope. Working Lengths: 0.4m - 2.7m. Rigid, Semi-rigid or Semi-flexible Borescopes. Probe Diameters: 1.9mm Borescope, 2.7mm Borescope, 4mm Borescope, 6mm Borescope, 8mm Borescope, 9mmBorescope. Working Lengths: 0.175m - 0.945m.