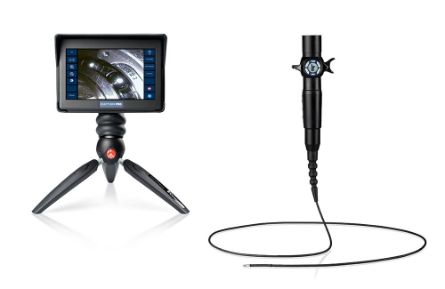 iLED PRO
Flexible videoscope system
The iLED PRO System is a complete Video Inspection System for all kind of infield inspections.

iLED PRO - Flexible videoscope system
With the integral High Power LED Light Source and the iCAPTURE 7" Touch-Monitor it establishes a complete and easy to handle Video Inspection System.

With diameters of 4.0 mm, 6.0 mm or 8.0 mm and lengths from 1.5 m to 7.5 m the iLED PRO System leaves nothing to be desired.

The iLED PRO System is a Video Kit which includes the iLED PRO Probe specified by articulation, diameter and working length of the following list and all necessary basic accessories, as one battery and one Objective (except for 4 mm), Charger and Neck-Holder. It comes in Video Pro System Case (up to 4 m length, IATA standard) or iRis Caseplus (from 5m length, non IATA).